Dear Pilots,
This weekend we will hold the 2nd round of our championship on the water of Le Grand Large in Mons.
If you are participating for the first time this season, you can reserve your number HERE.
Below you can find some practical information.
Good luck !
Place 2 Be
Le Grand Large
Avenue du Grand Large 2
7000 Mons
Ground plan
Planning
You will be able to follow the timetable live via your smartphone so that you can follow the current race at any time and place. The results (as soon as published) will also be available via the live timetable. This will be accessible via this link or you can also scan the QR code that you will find at various places on the site.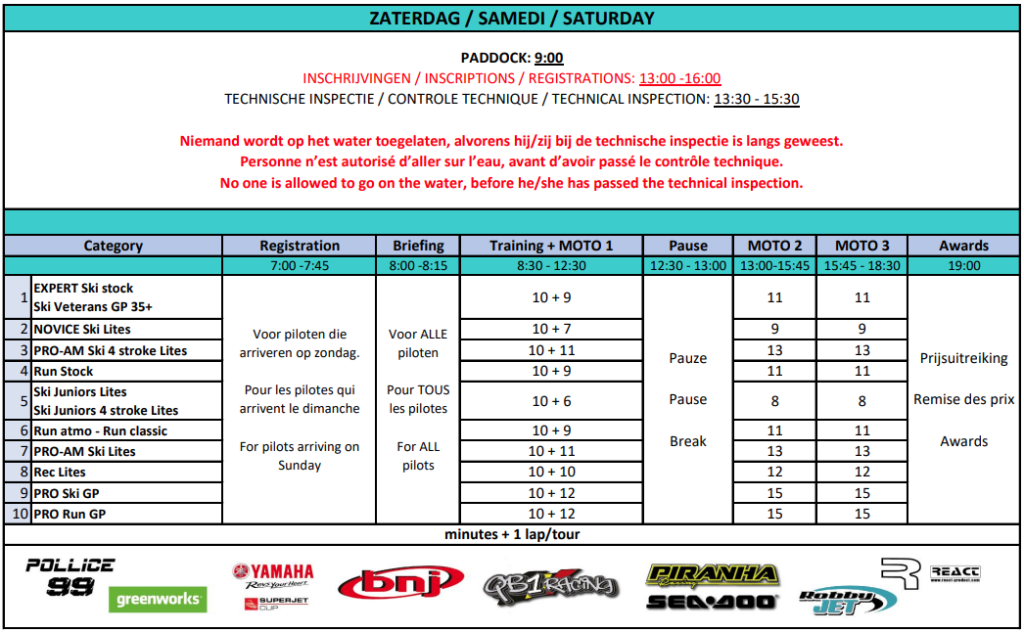 The paddock will open on Saturday at 9 am.
From that moment on, you are welcome and you can settle on the site in the designated places.
You can come and register (don't forget your medical certificate (if you are participating for the first time this season) !) at the registration table on Saturday from 1 pm till 4 pm.
When you have fulfilled your administrative obligations, you can go, together with your machine(s), to the technical inspection on Saturday from 1:30 pm till 3:30 pm.
This season we will also check the legibility of the race numbers! So be sure to read this article for some guidelines.
It is prohibited to go on the water with your ski(s) and/or runabout(s) before you have been to the technical inspection.
For the pilots arriving on Sunday, there is a last registration and inspection moment on Sunday from 7 am till 7:45 am.
ALL pilots must be present for the briefing.
The briefing will take place on Sunday at 8 am at the IJSBA truck.
The start will be given on Sunday at 8.30 am with a short 10-minute test and training round prior to the first MOTO.