Dear Pilots,
The holiday is almost over, unfortunately the same applies to our Belgian Championship.
This weekend we will close the 2023 BJBF season where we started it: on the water of the O2R Club of les Barrages de l'Eau d'Heure.
If you are participating for the first time this season, you can reserve your number HERE.
Place 2 Be
Jet Club Eau d'Heure – O2R
Lac de l'Eau d'Heure
Hameau du Féronval
6440 BOUSSU-LEZ-WALCOURT
Ground plan
Environment
We have to inform you that from an environmental point of view, it is forbidden to refuel outside the designated zones (blue zone "refuel zone" on the map above). It is absolutely forbidden to use jerry cans with fuel in the yellow zone. It is also mandatory to use an environmental or workshop mat when refueling.
The club (O2R) will monitor this closely, with possible fines of €100 when necessary.
VIP Package
To support the club, O2R provides 6 VIP places (fuchsia zone "reserved VIP" on the map above).
A pitch can be reserved here for the price of 100€. This amount will be invoiced to you by the BJBF and then transferred to the club (O2R).
Reservations can be made via info@bjbf.be.
Planning
You will be able to follow the timetable live via your smartphone so that you can follow the current race at any time and place. The results (as soon as published) will also be available via the live timetable. This will be accessible via this link or you can also scan the QR code that you will find at various places on the site.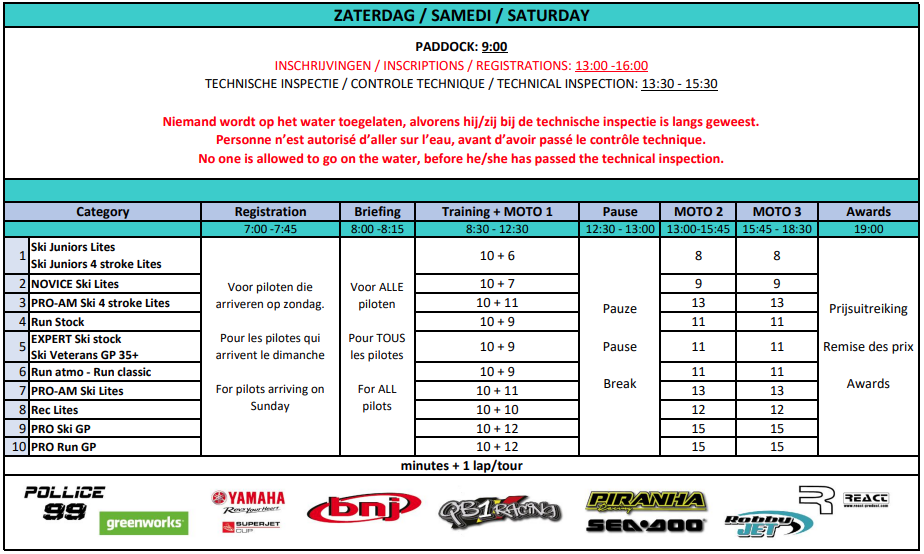 The paddock will open on Saturday at 9 am.
From that moment on, you are welcome and you can settle on the site in the designated places.
You can come and register (don't forget your medical certificate (if you are participating for the first time this season) !) at the registration table on Saturday from 1 pm till 4 pm.
When you have fulfilled your administrative obligations, you can go, together with your machine(s), to the technical inspection on Saturday from 1:30 pm till 3:30 pm.
This season we will also check the legibility of the race numbers! So be sure to read this article for some guidelines.
It is prohibited to go on the water with your ski(s) and/or runabout(s) before you have been to the technical inspection.
For the pilots arriving on Sunday, there is a last registration and inspection moment on Sunday from 7 am till 7:45 am.
ALL pilots must be present for the briefing.
The briefing will take place on Sunday at 8 am at the IJSBA truck.
The start will be given on Sunday at 8.30 am with a short 10-minute test and training round prior to the first MOTO.