Beste Piloten,
De vakantie zit er bijna op, helaas geldt hetzelfde voor ons Belgisch Kampioenschap.
Dit weekend sluiten wij het BJBF seizoen 2023 af op de plaats waar we het seizoen gestart zijn, namelijk op het water van de O2R Club van les Barrages de l'Eau d'Heure.
Indien u dit seizoen alsnog voor de eerste keer meedoet, kan u HIER uw nummer reserveren.
Place 2 Be
Jet Club Eau d'Heure – O2R
Lac de l'Eau d'Heure
Hameau du Féronval
6440 BOUSSU-LEZ-WALCOURT
Plattegrond
Milieu
Wij moeten jullie meedelen dat het vanuit milieu oogpunt verboden is om brandstof te tanken buiten de daarvoor voorziene zones (blauwe zone "refuel zone" op de kaart hierboven). In de gele zone mogen absoluut geen recipiënten met brandstof gebruikt worden. Er dient ook verplicht gebruik gemaakt te worden van een milieu- of werkplaatsmat wanneer er brandstof wordt getankt.
De club (O2R) zal hier streng op toezien met mogelijke boete van 100€ als gevolg.
VIP Package
Om de club te steunen stelt O2R 6 VIP plaatsen ter beschikking (fuchsia zone "gereserveerd VIP" op de kaart hierboven).
Er kan hier een standplaats gereserveerd worden voor de prijs van 100€. Dit bedrag wordt u gefactureerd door de BJBF en wordt vervolgens doorgestort aan de club (O2R).
Reserveren kan via info@bjbf.be.
Planning
De timetable zal live te volgen zijn via uw smartphone zodat u op elk moment en op elke plaats gewoon kan volgen welke wedstrijd er op dat moment bezig is. De resultaten (van zodra gepubliceerd) zullen ook via die live timetable te raadplegen zijn. Deze zal beschikbaar zijn via deze link of u kan ook de QR code scannen die u op de verschillende plaatsen op het terrein terug zult vinden.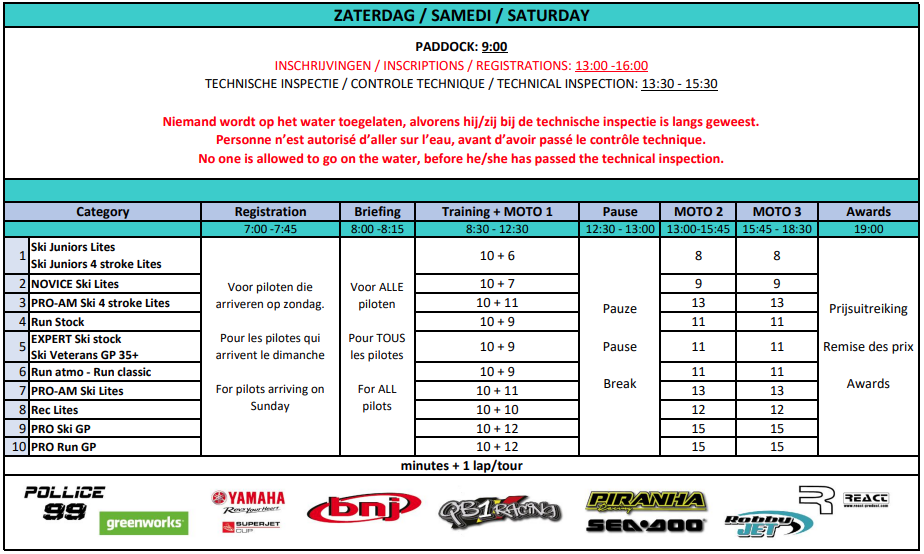 De paddock opent zaterdag om 9u00.
Vanaf dan bent u welkom en kan u zich installeren rond de site op de daartoe bestemde plaatsen (bruine zone "PADDOCK + PARK PILOTES" op de kaart hierboven).
U kan zich komen inschrijven (vergeet zeker uw medisch attest niet indien u voor de eerste keer dit seizoen deelneemt !) aan de inschrijvingstafel zaterdag vanaf 13u00 tot 16u00 (blauwe zone "BJBF" op de kaart hierboven).
Wanneer u aan uw administratieve verplichtingen voldaan heeft, kan u zich samen met uw machine(s) aanmelden voor een technische inspectie (blauwe zone "BJBF" op de kaart hierboven) zaterdag vanaf 13u30 tot 15u30.
Wij controleren dit seizoen ook op de leesbaarheid van de racenummers! Neem dus zeker dit artikel eens door voor enkele richtlijnen.
Het is verboden uw ski(s) en/of runabout(s) te water te laten alvorens u bij de technische inspectie bent geweest.
Voor de piloten die zondag pas aankomen is er nog een laatste inschrijvings- en keuringsmoment voorzien op zondag vanaf 7u00 tot 7u45 (blauwe zone "BJBF" op de kaart hierboven).
ALLE piloten dienen aanwezig te zijn voor de briefing.
De briefing zal plaatsvinden op zondag om 8u00 aan de IJSBA-truck (blauwe zone "BJBF" op de kaart hierboven).
Het startschot wordt gegeven op zondag om 8u30 met voorafgaand aan de eerste MOTO, een korte verkennings- en trainingronde van 10 minuten.