Beste Piloten,
Dit weekend houden we de 3de ronde van ons kampioenschap op het water van Le Grand Large in Bergen.
Indien u dit seizoen voor de eerste keer meedoet, kan u HIER uw nummer reserveren.
Hieronder nog wat praktische info.
Veel succes !
Place 2 Be
Le Grand Large
Avenue du Grand Large 2
7000 Mons
Plattegrond
Planning
De timetable zal live te volgen zijn via uw smartphone zodat u op elk moment en op elke plaats gewoon kan volgen welke wedstrijd er op dat moment bezig is. De resultaten (van zodra gepubliceerd) zullen ook via die live timetable te raadplegen zijn. Deze zal beschikbaar zijn via deze link of u kan ook de QR code scannen die u op de verschillende plaatsen op het terrein terug zult vinden.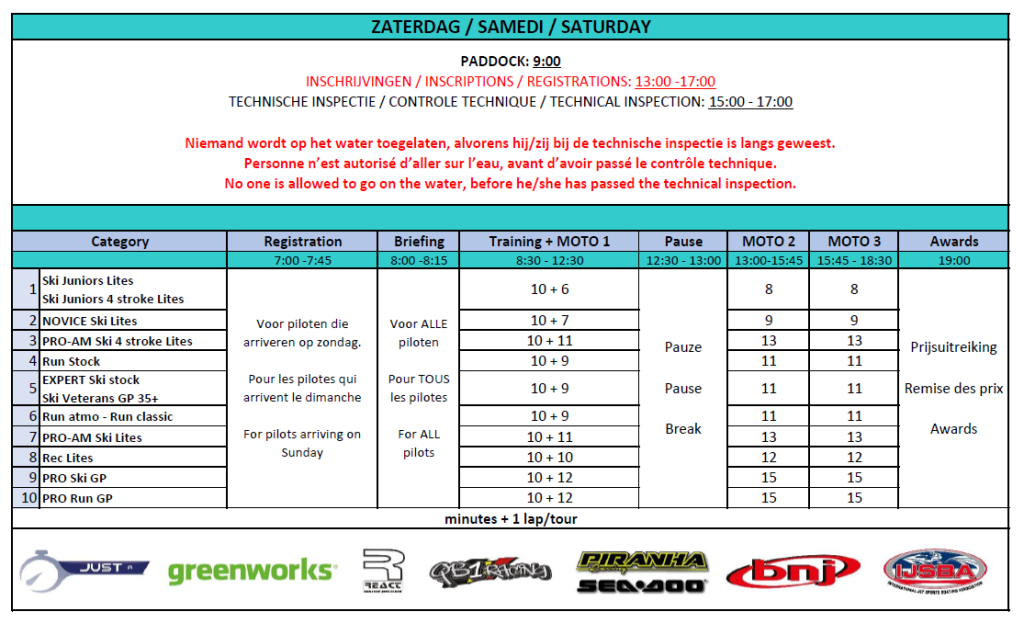 De paddock opent zaterdag (28/05/2022) om 9u00.
Vanaf dan bent u welkom en kan u zich installeren rond de site op de daartoe bestemde plaatsen.
U kan zich komen inschrijven (vergeet zeker uw medisch attest niet indien u voor de eerste keer dit seizoen deelneemt !) aan de inschrijvingstafel zaterdag (28/05/2022) vanaf 13u00 tot 17u00.
Wanneer u aan uw administratieve verplichtingen voldaan heeft, kan u zich samen met uw machine(s) aanmelden voor een technische inspectie zaterdag (28/05/2022) vanaf 15u00 tot 17u00.
Wij controleren dit seizoen ook op de leesbaarheid van de racenummers! Neem dus zeker dit artikel eens door voor enkele richtlijnen.
Het is verboden uw ski(s) en/of runabout(s) te water te laten alvorens u bij de technische inspectie bent geweest.
Voor de piloten die zondag pas aankomen is er nog een laatste inschrijvings- en keuringsmoment voorzien op zondag (29/05/2022) vanaf 7u00 tot 7u45.
ALLE piloten dienen aanwezig te zijn voor de briefing.
De briefing zal plaatsvinden op zondag (29/05/2022) om 8u00 aan de IJSBA-truck.
Het startschot wordt gegeven op zondag (29/05/2022) om 8u30 met voorafgaand aan de eerste MOTO, een korte verkennings- en trainingronde van 10 minuten.